Quilt National 2019 Prize Winners
The whole collection is documented in Quilt National: The Best of Contemporary Quilts, published by The Dairy Barn Arts Center. There were 700 quilts submitted by 375 artists from 42 states and 19 countries. Jurors François Barnes, Carolyn Ducey and Judy Kirpich selected 84 quilts by 84 artists. The exhibitors represented 26 states and 6 foreign countries. In this exhibition 36 percent of the exhibitors are first time Quilt National artists. There were 15 awards granted. In addition, the People's Choice award will be chosen by the visitors to the show.
Best of Show
Sponsored by MODA
Karen Schulz

A Conversation ©KS
67 by 50
Hand-dyed cotton fabric, cotton batting, thread, silk/bamboo yarn. Machine pieced and quilted, couched..
Artist's Statement: Two large shapes, one approaching from the left, one approaching from the right, meeting in the middle, somehow in dialogue. Can the conversation continue across that spatial tension? Paring down and paying attention. Everything is always in relationship.
Quilts Japan Prize
sponsored by Nihon Vogue Co. Ltd./Japan Handicrafts Instructors Association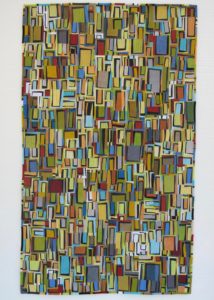 Dana Ziesemer
Shapes and Lines 2018 ©DZ
36 by 60
Hand-dyed and commercial cottons. Machine pieced and quilted.
Artist's Statement: Line, be it a strip of cloth or a seam, continues to dominate my approach to quilt design. By using only scissors to cut into the cotton, I'm able to produce a fabric "font".
Award of Excellence
Sponsored by Aurifil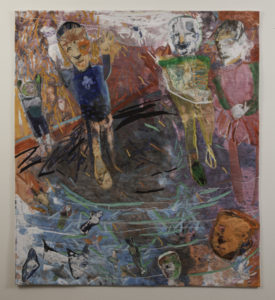 Dinah Sargeant
Riverstrong ©DS
40 by 44
Painted cotton, recycled produce netting, embroidery thread, ribbon, fabric tape. Hand-painted fabric, machine appliquéd and quilted.
Artist's Statement: They danced towards the river and into the current.
Innovative Material
Sponsored by Ardis & Robert James Foundation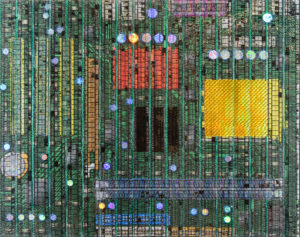 Arturo A. Sandoval
Pattern Fusion 16, Motherboard ©AS
40.25 by 32
Digital vinyl, recycled auto industry Mylar, recycled UK library 35mm microfilm, monofilament threads, holographic and diachroic tapes, 70mm leader film, Pellon, polymer medium, white glue, fabric. Layered, machine stitched, appliquéd.
Artist's Statement: Since 2004, a new series of art quilts was conceived titled "Pattern Fusion." This series incorporates textile and computer motherboard designs for inspiration. The materials used are predominately recycled. The 35mm microfilm has an innate graphic pattern that emerges when combined with various colored Mylar and held together with machine stitching, embroidery, netting, and interlacing. The layered materials create a surface of fused patterns. Some results are subtle and others bold. A kinetic quality is created from the Mylar and other holographic elements that respond to ambient light and with the movement of the spectator when viewed close-up and from afar.
Emerging Artist
sponsored by Mountain Mist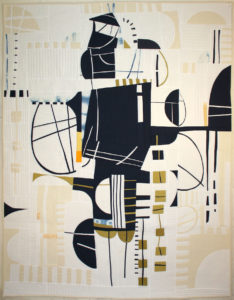 Irene Roderick
Mr. Bojangles, Dance ©IR
60 by 76
Cotton fabric, cotton/wool batting, polyester thread. Indigo dyed fabric, machine pieced and quilted.
Artist's Statement: Mr. Bojangles, Dance is part of an improv series that I describe as "dancing with the wall." I begin with a single piece of fabric on the wall and build the quilt as I progress through a kind of dance. I place a piece of fabric on the wall, step back to observe, adjust, stitch, iron, repeat until the quilt is complete. None of the design is preconceived and the process is completely organic, intuitive, and often surprising.
Lynn Goodwin Borgman Award for Surface Design
sponsored by Betty Goodwin
Orange Blossoms ©MK
40 by 44
Recycled newspaper, paint, cloth, threads. An original technique developed by the artist called Infused Newsprint Cloth (INC) was used. Silk screened, hand embroidered, free motion machine quilted.
Artist's Statement: Besides working only on fabric, I work with different media, paints, and dyes, to discover and create new techniques that incorporate paper and fabric in one piece of art. My current work was meant to draw awareness to the use of recycled materials in artwork. Through my technique, newspaper is integrated into cloth in a seamless infused manner. I like to approach quilting art in a non-traditional way to apply a different perspective to this artform.
Surface Design Award of Excellence
sponsored by Quilt Surface Design Symposium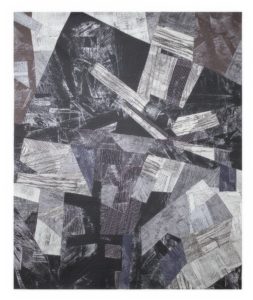 Barb Wills
LAND MARKS #85 ©BS
46 by 54
Pimatex cotton, Japanese wood for woodcut, proprietary ink/dyes. Hand-dyed Pimatex, original design relief woodcut, hand printed with proprietary ink/dyes, machine pieced and machine quilted.
Artist's Statement: My artwork is driven by a passion to experiment, allowing my mark making to become my voice. Inspiration and imagery come from the forests, mountains, rocks, trees, the sky, and marks on the ground. I translate this imagery into lines, layers, and values. Trees, lines, and fallen branches become the abstracted angles and figures in my work as they help support my mark making.
McCarthy Memorial Award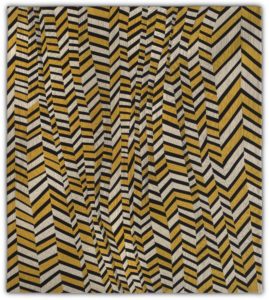 Valerie Maser-Flanagan
Up the Rabbit Hole #1 ©VMF
42.25 by 47.5
Hand dyed cotton fabric, commercial black cotton fabric. Freely cut lines and shapes, machine pieced with an improvisational approach, machine quilted.
Artist's Statement: After working on this series for a few years, I wanted to progress toward a different direction. Unsure how to make this shift, I generated numerous possibilities, all of which would lead to different visual outcomes. Initially this presented as a tangle of ideas. Once I made the decision to focus on a 3-dimensional perspective, the path was clear to forge ahead.

Outstanding Machine-Pieced Quilt Award
sponsored by the Crow Timber Frame Barn Art Retreats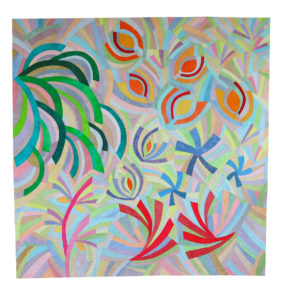 Pamela Loewen
Garden of Innocence ©PM
75 by 78
Hand-dyed (artist) cottons, wool batting. Free form cutting , machine pieced and quilted.
Artist's Statement:Each new day brims with possibilities. I think of the poet Shel Silverstein's line "Anything can happen, child. ANYTHING can be." Garden of Innocence, twelfth in this series, suggest the dewy freshness of early morning and a new chance to begin again.
SAQA Award

sponsored by Studio Art Quilt Associates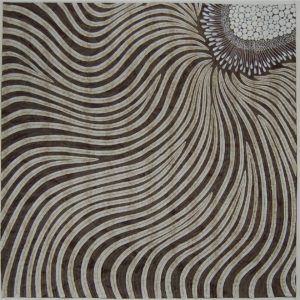 Sylvia Gegaregian
Curvaceous I ©SG
41.5 by 41.5
Fabric paint, Perle cotton embroidery thread, 12 & 30 weight cotton thread, commercial cotton fabric and batting. Hand embroidery, quilted, painted, fused appliqué, machine stitched, cut/slashed.
Artist's Statement: Several years ago, the members in my quilting bee decided to try a quilting technique that most of us had not tried. It was a small challenge project in a design of our choice. Since then, this small exploratory project has given me the courage to expand on my initial ideas and step out of my comfort zone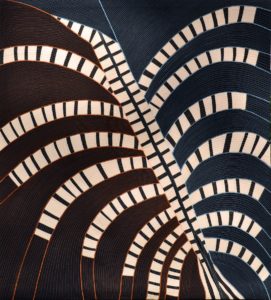 Gabrielle Paquin
Fossil ©GP
44 by 49
Cotton, colored thread. Drawing, machine pieced and quilted.
Artist's Statement: After making traditional quilts for ten years, I started making art quilts with specially striped fabrics and to construct new lines. I need time alone making quilts, thinking about what I will do and how to do. This is a great pleasure. Using fabrics gives me more freedom to work and experiment than with painting that I practiced several years ago. Sometimes, when a new idea pops into my mind in the night, I get up to make a drawing and note the colors.
Heartland Award
sponsored by the Nelsonville Quilting Company
Downtown Jazz ©DR
84 by 40
Cottons dyed with Procion MX fiber-reactive dyes, rayon thread, cotton batting. Hand-dyed cottons, machine pieced and quilted.
Artist's Statement: My quilts represent nature and architecture. This quilt is my idea of downtown Indianapolis and music in the city. I experience the endless colors of the leaves, grasses and flowers in Brown County, Indiana. I hand-dye fabric to match the colors I see in nature throughout the year with the changing seasons. I then cut shapes, intuitively, to represent my surroundings whether in my back yard or on travels with my husband throughout Europe and the United States.
Juror's Award of Merit
Shift 8 ©LJA
66 by 70
Double-dyed shibori fabric (artist), Pimatex fabric, cotton fabric thread, 80% cotton batting. Machine quilted.
Artist's Statement: An interest in repeated geometric forms and the possibility for variation within that repetition led Liz to careers in architecture, then textiles. Using hand-dyed fabrics allows freely combined colors creating complex painterly surfaces and a sense of deep and shallow space.
Juror's Award of Merit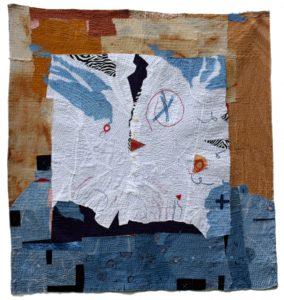 Helen Geglio
Agitation ©HG
44 by 47
Cotton, linen, silk noil, found white dress shirts. Fabrics are painted and dyed, raw edge appliquéd, hand embroidered, hand stitched.
Artist's Statement: A dozen white shirts, found wadded in the corner of a box, forgotten for many years. So many stolen hours, so much toil, bound in this abandoned bundle of cotton. This work is dedicated to Dr. Ruth Benerito, the USDA chemist credited for the discovery and development of permanent press.
Juror's Award of Merit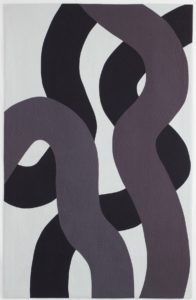 Denise Roberts
FINDING CONNECTIONS #21 ©DR
42 by 65
Hand-dyed cotton fabric, cotton batting, cotton thread. Direct fabric cuts, machine pieced and quilted.
Artist's Statement: After years of creating very complex work, I have a desire to explore spare compositions. I approached the series with curvilinear shapes in mind that would interact with one another to create new shapes in a spare manner. My primary focus is on the beautiful spacing to find the interplay between the figure-ground relationship.
People's Choice Award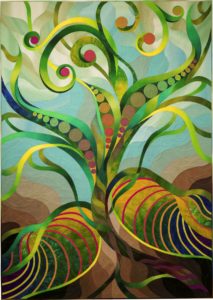 Caryl Bryer Fallert-Gentry
Vine #2 @CBFG
61 by 86
Dye, ink, 100% cotton fabric, batting (50% cotton 50% bamboo), acrylic and polyester threads. Hand-dyed, hand painted, machine pieced and quilted.
Artist's Statement: Vine #2 began with a doodle I drew many years ago and kept in my inspiration file. After playing with the original sketch, trying different shapes, orientations, and repeats, it evolved into a bio-morphic design that echoes the patterns we see in nature but doesn't represent any particular species. The fabrics include hand-dyed gradations, hand painted fabrics and fabrics from the various collections I have designed for Benartex. In the quilting I used dozens of different colors of thread. The negative spaces are quilted in vine patterns.