Founded in 1979, Quilt National was intended to demonstrate the transformations taking place in the world of quilting. Its purpose was then, and still is, to carry the definition of quilting far beyond its traditional parameters and to promote quiltmaking as what it always has been — an art form.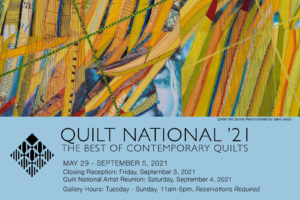 GALLERY RESERVATIONS ARE REQUIRED
Jury: Nancy Bavor, Brigitte Kopp, and Karen Schulz
Congratulations to the QN'21 Artists!
Congratulations to the QN'21 Artists
Mary Arnold, Washington
Catherine Beard, Oregon
Sue Benner, Texas
Susan Bianchi, California
Margaret Black, Pennsylvania
Anna Brown, New South Wales, Australia
Pat Budge, Idaho
Betty Busby, New Mexico
Beth Carney, New York
Sandra Champion, Tasmania, Australia
Shin-hee Chin, Kansas
Carson Converse, Massachusetts
Nancy Cordry, Washington
Cheryl Costley, Florida
Nancy Crasco, Massachusetts
Willy Doreleijers, Zuid Holland, Netherlands
Chiaki Dosho, Kanagawa-ken, Japan
Robbi Eklow, Nebraska
Audrey Esarey, Kentucky
Jean M Evans, Ohio
Petra Fallaux, Pennsylvania
Caryl Bryer Fallert-Gentry, Washington
Deborah Fell, Illinois
Helen Geglio, Indiana
Valerie Goodwin, Florida
Kerri Green, Texas
Betty Hahn, Arizona
Barbara Oliver Hartman, Texas
Sharon Havelka, Tennessee
Susann Heymann, Mecklenburg-Vorpommern, Germany
LeAnn Hileman, Arizona
Judy Hooworth, New South Wales, Australia
Jean Howard, Missouri
Jill Jensen, Virginia
Mary Anne Jordan, Kansas
Jean Jurgenson, California
Barbara Kanaya, Washington
Donalee Kennedy, Ohio
Jill Kerttula, Virginia
Natalya Khorover, New York
Misik Kim, Seoul, Korea
Linda M. Kim, Texas
Judy Kirpich, Maryland
Paula Kovarik, Tennessee
Carol Krueger, Colorado
Susan Lapham, Virginia
Carol Larson, California
Jane Lloyd, Northern Ireland
Jeanne Marklin, Massachusetts
Judith Martin, Ontario, Canada
Valerie Maser-Flanagan, Massachusetts
Diane Melms, Alaska
Alicia Merrett, Somerset, England
Kestrel Michaud, Florida
Melody Money, Colorado
Judith Mundwiler, Baselland, Switzerland
Barbara Nepom, Washington
Kathy Nida, California
Dan Olfe, California
Gabrielle Paquin, Centre Val de Loire, France
Pat Pauly, New York
Shawn Quinlan, Pennsylvania
Daren Redman, Indiana
Irene Roderick, Texas
Michael Ross, Pennsylvania
Yasuko Saito, Tokyo, Japan
Arturo Alonzo Sandoval, Kentucky
Beth Schnellenberger, Indiana
Joan Schulze, California
Alison Schwabe, Montevideo, Uruguay
Sandy Shelenberger, Ohio
Maria Shell, Alaska
Susan Shie, Ohio
Anne Smith, Rhondda Cynon Taff, Wales
Catherine Smith, Connecticut
Gerri Spilka, Pennsylvania
Janet Swigler, South Carolina
Cecile Trentini, Illinois
Maggie Vanderweit, Ontario, Canada
Naomi Velasquez, Idaho
Kit Vincent, Ontario, Canada
Sarah Ward, Auckland, New Zealand
Isabelle Wiessler, Baden Württenberg, Germany
Sandra L.H. Woock, Colorado
Things to do and places to stay in Athens, Ohio.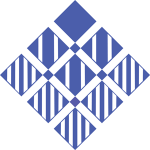 "The works in a Quilt National exhibit display a reverence for the lessons taught by the makers of the heritage quilts. Many of the works hold fast to the traditional methods of piecing and patching. At the same time, however, the Quilt National artist is intrigued by the challenge of expanding the boundaries of traditional quiltmaking by utilizing the newest materials and technologies. These innovative works generate strong emotional responses in the viewer while at the same time fulfilling the creative need of the artist to make a totally individual statement."