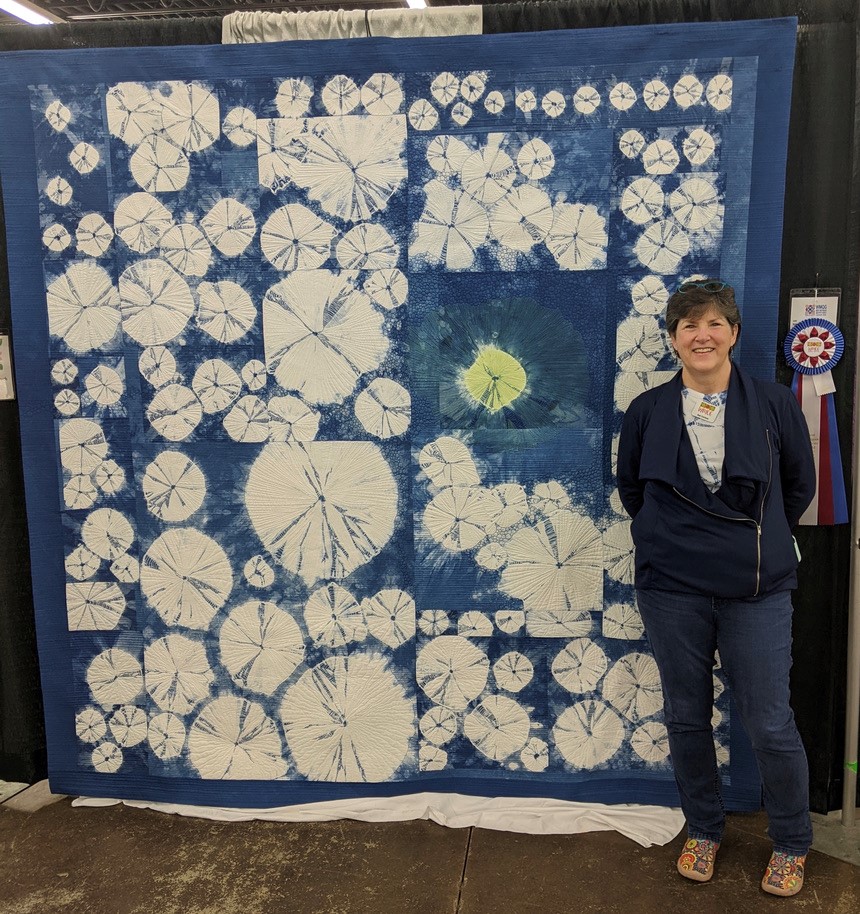 Sue Cortese grew up in Buffalo, NY and now lives in Holland, MI. She is a quilter, fabric dyer, teacher, long arm quilter, Certified Quilt Judge and SAQA Regional Representative. She started quilting (and dyeing fabrics) in 1995, when living in Green River, WY. Her curiosity into what makes a "winning" quilt began after she helped with the first quilt show. Looking for a quilting community after moving to Michigan led to connections with various groups and people. Her quilting involvement snowballed from working and teaching at a quilt shop to selling hand-dyed fabric, starting her own company (SELC Fabrics LLC), vending at quilt shows and eventually judging and teaching quilt shows.
She has been honored with many ribbons from traditional quilt shows including a 2nd place ribbon at AQS-Paducah. Her art quilts have been included in SAQA Exhibits, Quilts=Art=Quilts, Form Not Function, and Muskegon Art Museum's Regional. Held dear is the invitation for her work to be included in an exhibition curated by Nancy Crow, Circular Abstraction. Sue had her first solo show at Lowell Art in January 2023. Her acceptance into Quilt National at The Dairy Barn Arts Center is another esteemed honor.
Her recent work has centered around shibori and indigo dyeing. Shibori is a Japanese method of using pressure as a resist, creating a pattern when dyed. The Kumo or spiderweb pattern is a favorite shibori technique of Sue's. The energy of the circular motif combined with the rhythm of the striped lines is something she finds interesting and pleasing. Knowing various shibori techniques allows her work to take advantage of the different patterns and textures each produces. The use of the natural indigo adds a touch of familiarity…a color used for centuries around the world.
www.SELCFabrics.com
www.SUECORTESEQUILT.com
Instagram: @suecortesequilt