Maps/Directions
The Dairy Barn is located in Athens, Ohio.
8000 Dairy Lane
Athens, OH 45701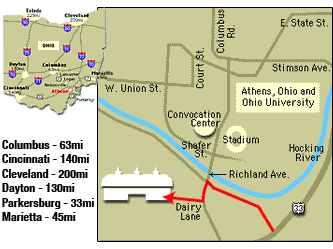 Athens is 75 miles southeast of Columbus at the junction of US Routes 33 and 50. Follow the highway to exit 17 for "Ohio University Route 682 North."
Use the left lane on the exit ramp, follow the Roundabout to Richland Ave South. Drive one block and turn right onto Dairy Lane at the park.
You will see our sign with red posts at the turn. We are on the left approximately 3/4 mile up Dairy Lane. We are a large white barn on the left side of the road. The entrance and parking is behind the Dairy Barn.
The Dairy Barn makes every attempt to accommodate special needs. Please contact us in advance of your visit. Our facility is wheelchair and stroller accessible with free parking, exhibition tours by appointment, and nearby restaurants and motels.