Quilt National 2013 Prize Winners
The whole collection is documented in Quilt National 2013: The Best of Contemporary Quilts, published by Dragon Threads. There were 851 quilts submitted by 458 artists from 44 states, 17 countries and five Canadian Provinces. Jurors Linda Colsh, Penny McMorris, and Judith Content  selected 85 quilts by 85 artists. The exhibitors represented 27 states and  7 foreign countries. In this exhibition 20 percent of the exhibitors are first time Quilt National artists. There were 13 awards granted. In addition, the People's Choice award was chosen by the visitors to the show.
Brooke A. Atherton SpringField ©BA 32 by 97 Canvas backing, silk organza, paper maps, cotton, melted aluminum, glass, found objects; rusted, dyed, burned, layered, fused, hand and machine stitched
Artist's Statement: "A little stitching madness to hold an elusive memory"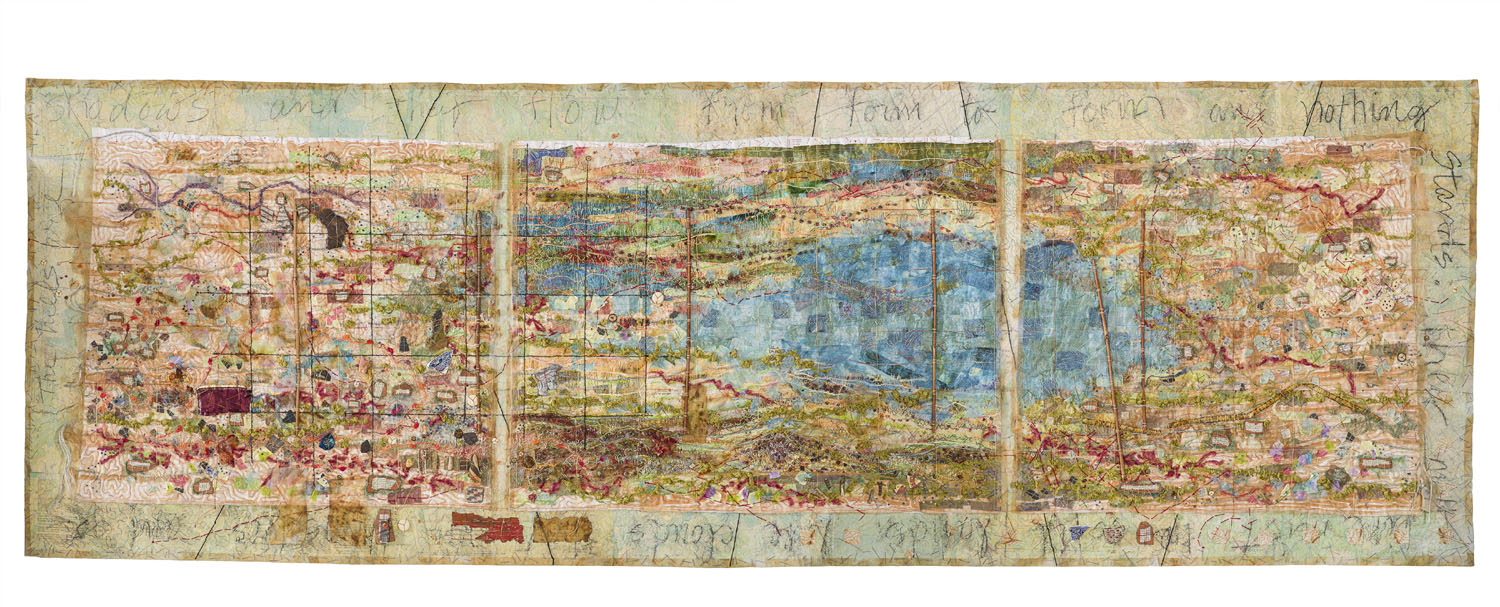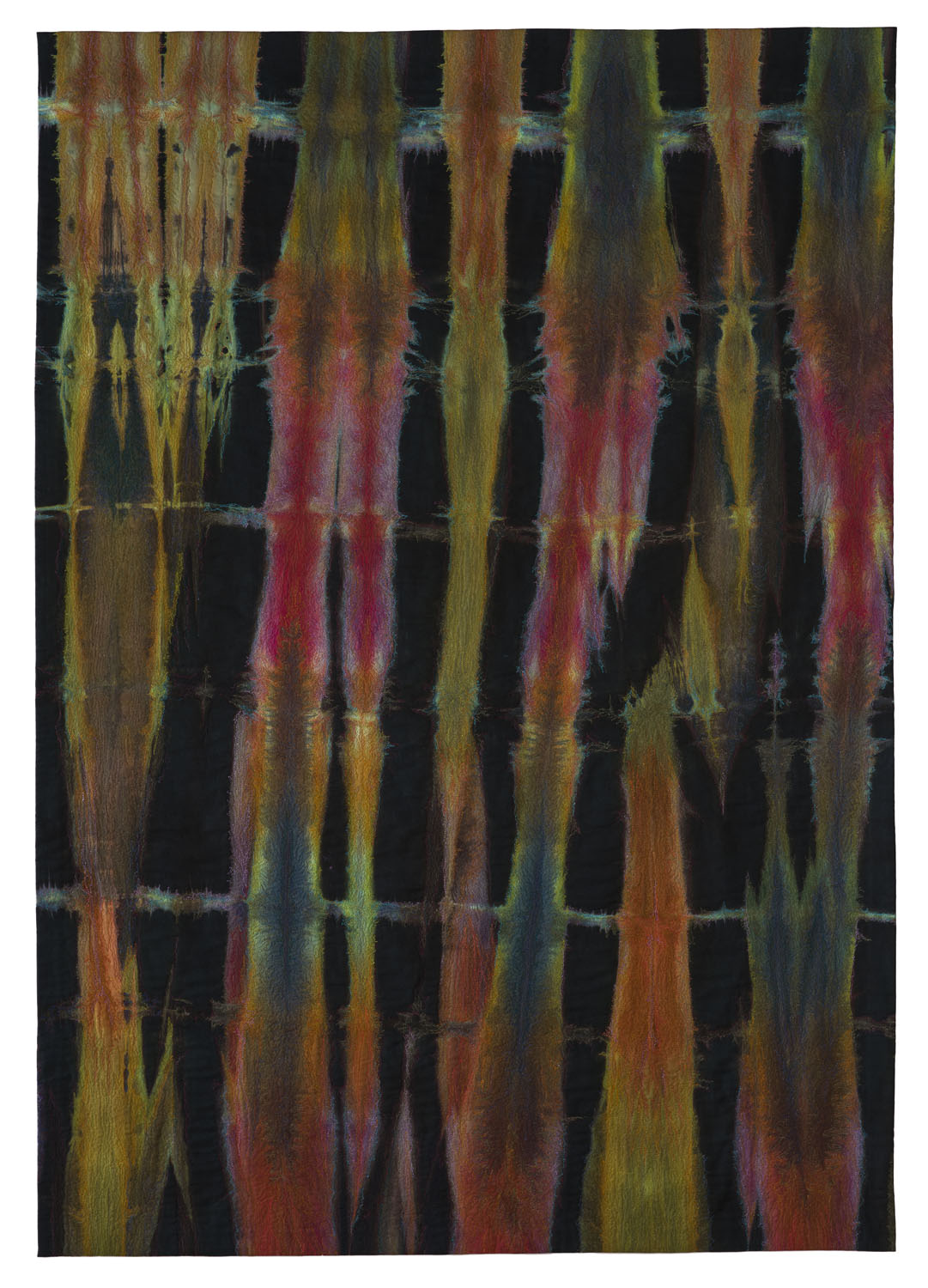 Quilts Japan Prize
Elin Noble
Fugitive Pieces 11 ©EN
65 by 45
Cotton, dye, silk and cotton thread; clamp resist dyed shibori on cotton, discharged and dyed several times, quilted by longarm machine with hand-dyed cotton and silk thread.
Artist's Statement: In the series Fugitive Pieces, I am inspired by the Canadian poet, Anne Michaels novel of the same name. I seek the visual equivalent of her beautifully crafted sentences, her quietly unfolding imagery, and both subtle and haunting stories. I believe her range of feelings and moods can find its equivalent in the softness and depth of cloth, and its tactile and luminous qualities..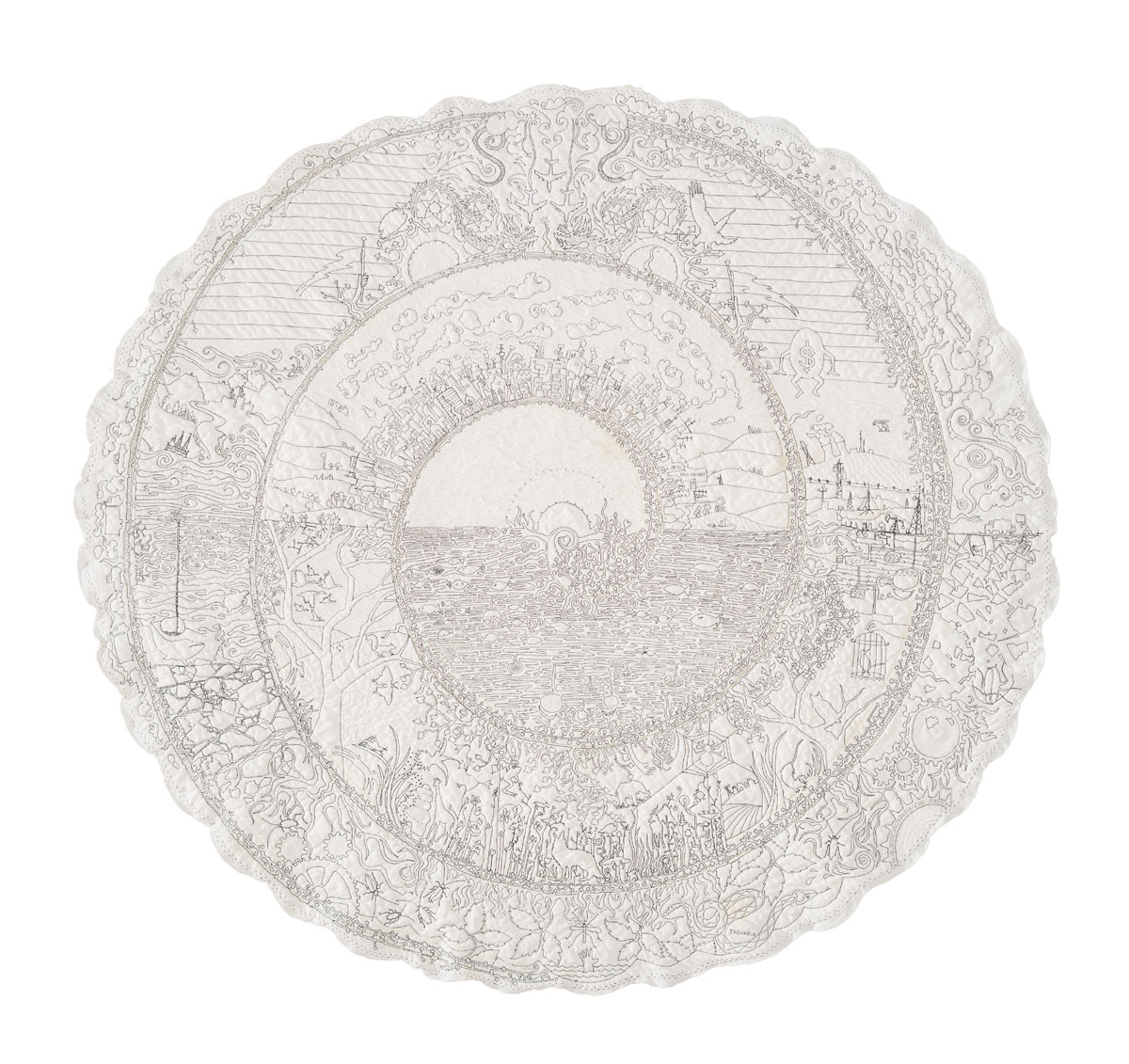 Award of Excellence
Paula Kovarik
Round and Round It Goes©PK
54 by 54
Cotton tablecloth, bamboo batting, cotton thread; thread drawn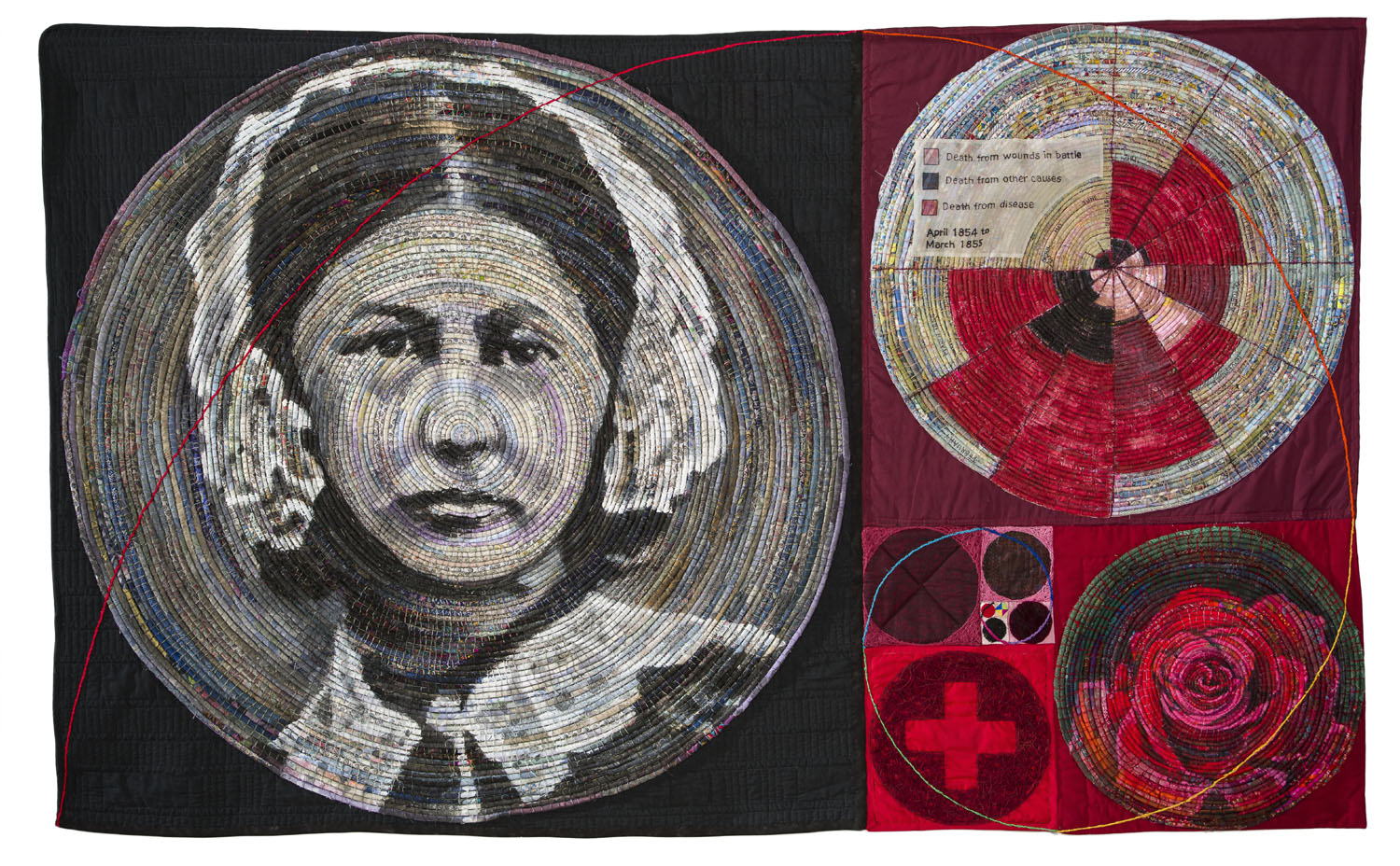 Most Innovative Use of the Medium
Florence Nightingale ©SHC
48 by 78
Recycled and commercial fabrics, hemp, organza, pearl cotton, ramie,; coiled, dyed, fabric painted, hand stitched
Artist's Statement: Florence Nightingale used her data to show the correlation between the cleanliness of the hospitals and the mortality rate, creating a chart, often called rose chart. In laying out her image with her rose chart, red rose, and red cross. I wished to honor her accomplishments. By synthesizing the Fibonacci Spiral, I wanted to illustrate circles and squares, math and art, beautiful mind and good deeds.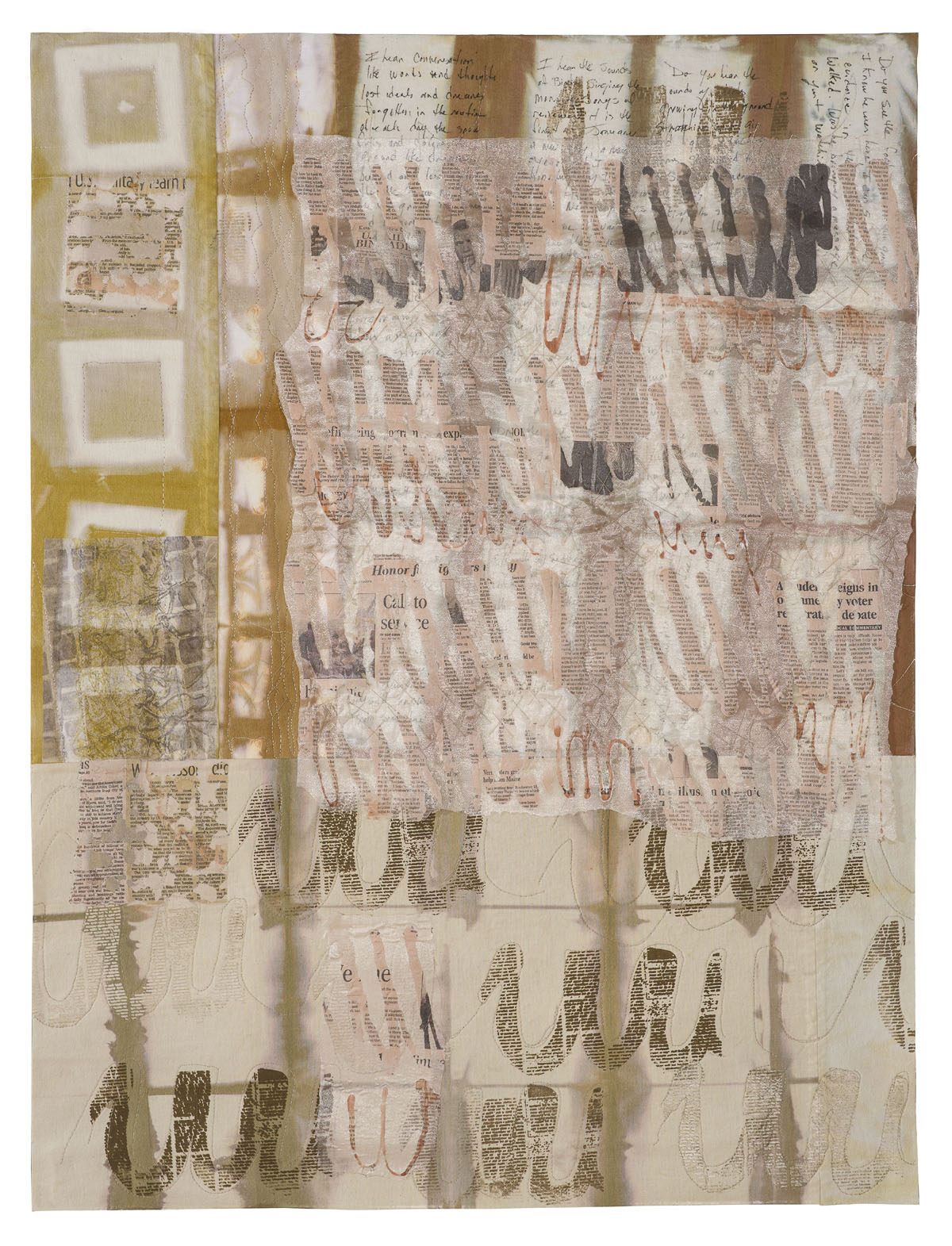 Lynn Goodwin Borgman Award for Surface Design
Letters to Myself-Page 4©DL
41 by 31
Hand dyed cotton, silk organza, polyester sheet, newspaper, permanent pen; machine pieced, hand and machine stitched, shape resist dyed, digital transfer, artist made thermofax screen-printed, paper lamination, direct writing.
Artist's Statement: Letter to Myself-Page 4 is a reflection on the transient nature of life. With the passage of time there is a transience depicted with traces, recollections, faded memory and layers. I consider my work as an ongoing process of searching for meaning and deciphering the metaphors.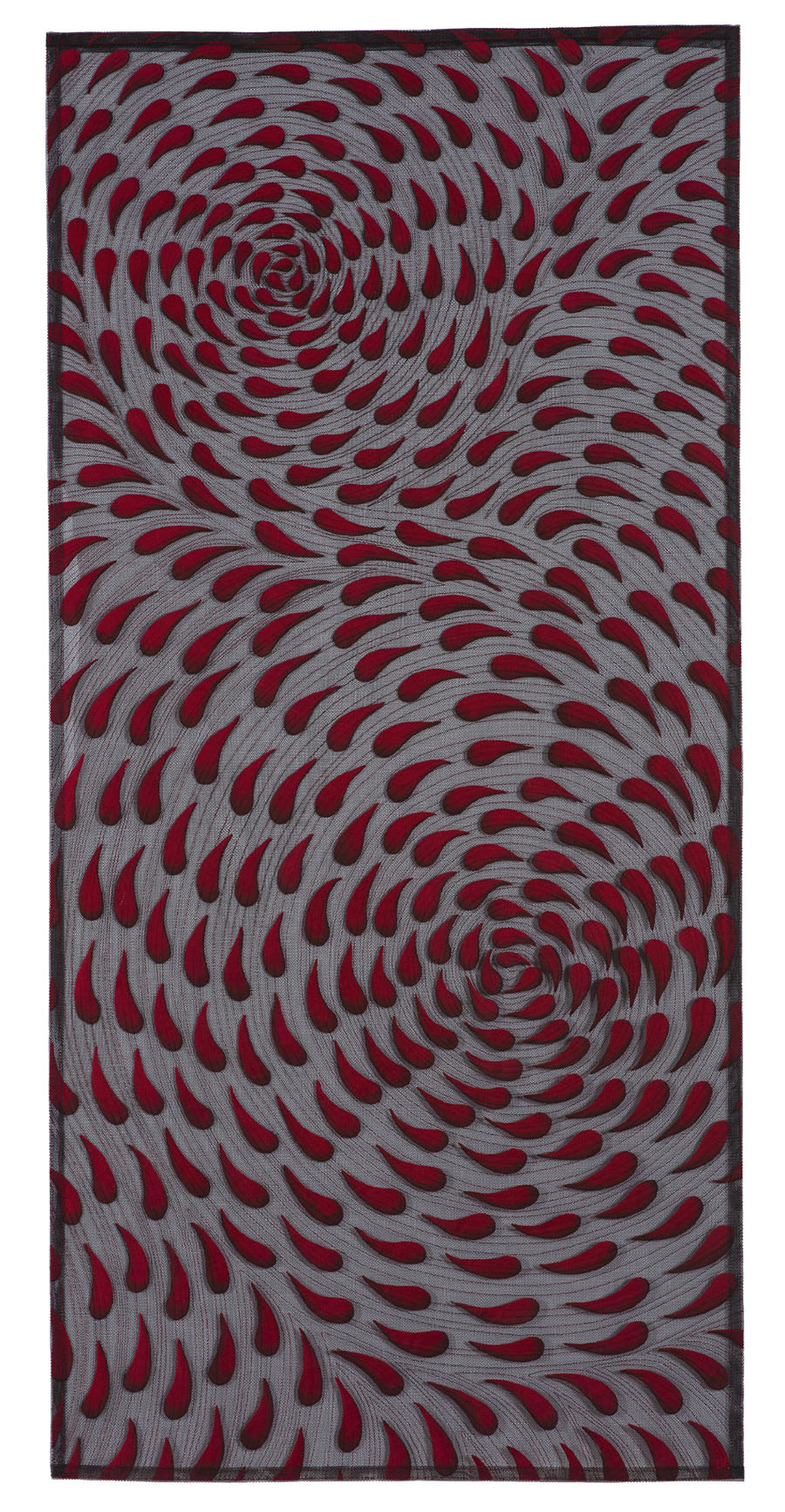 McCarthy Memorial Award
Storm©DF
55 by 26
Viscose felt, polyester net, polyester thread, dye, pastels; cutwork assembled within two net layers, machine quilted
Artist's Statement: Storms are driven by the conflicting movements of warm and cool air, something that we can feel but cannot see. What we do see are the things that are picked up by the storm, such as raindrops or dust or cinders. In this quilt I have tried to capture the swirling fluid character of that movement as the air seeks equilibrium.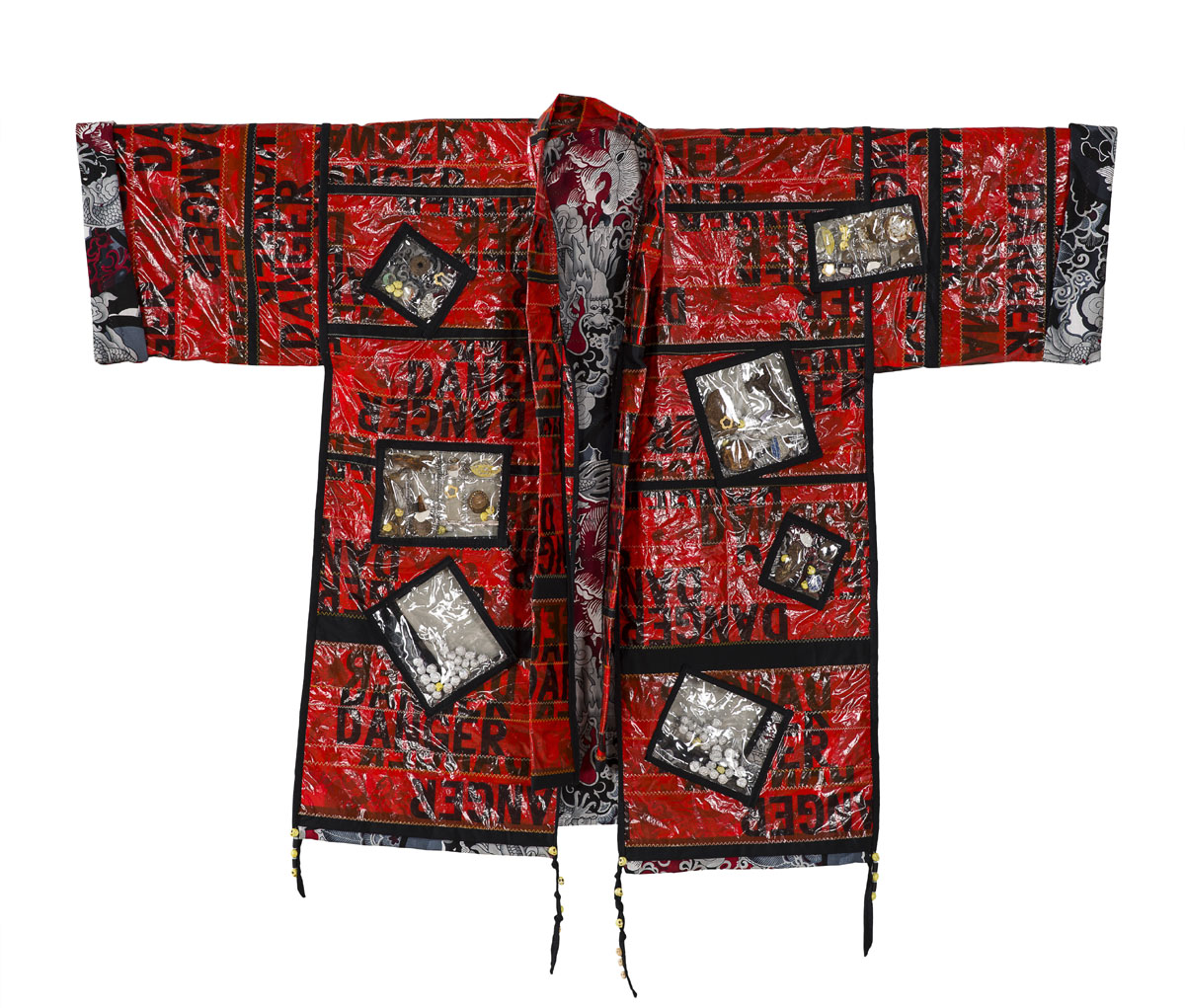 Cathy Rasmussen Emerging Artist Memorial Award
sponsored by Studio Art Quilt Associates
Arle Sklar-WeinsteinTruth or Consequences ©ASW
48 by 54
Red danger barricade tape, vinyl window pockets, fojn d objects of debris, commercial cotton (fire breathing dragon); kimono form; appliquéd.
Artist's Statement: Creating visual art in any form often results in something attractive or beautiful to enjoy. To use art as a political statement without falling into illustration is in my experience, more challenging.In this Kimono form, Truth or Consequences, the medium is truly the message; barricade tape to create the "fabric" amplifies the warnings of irreversible environmental damage we humans in our folly and greed, continue to inflict on our planet.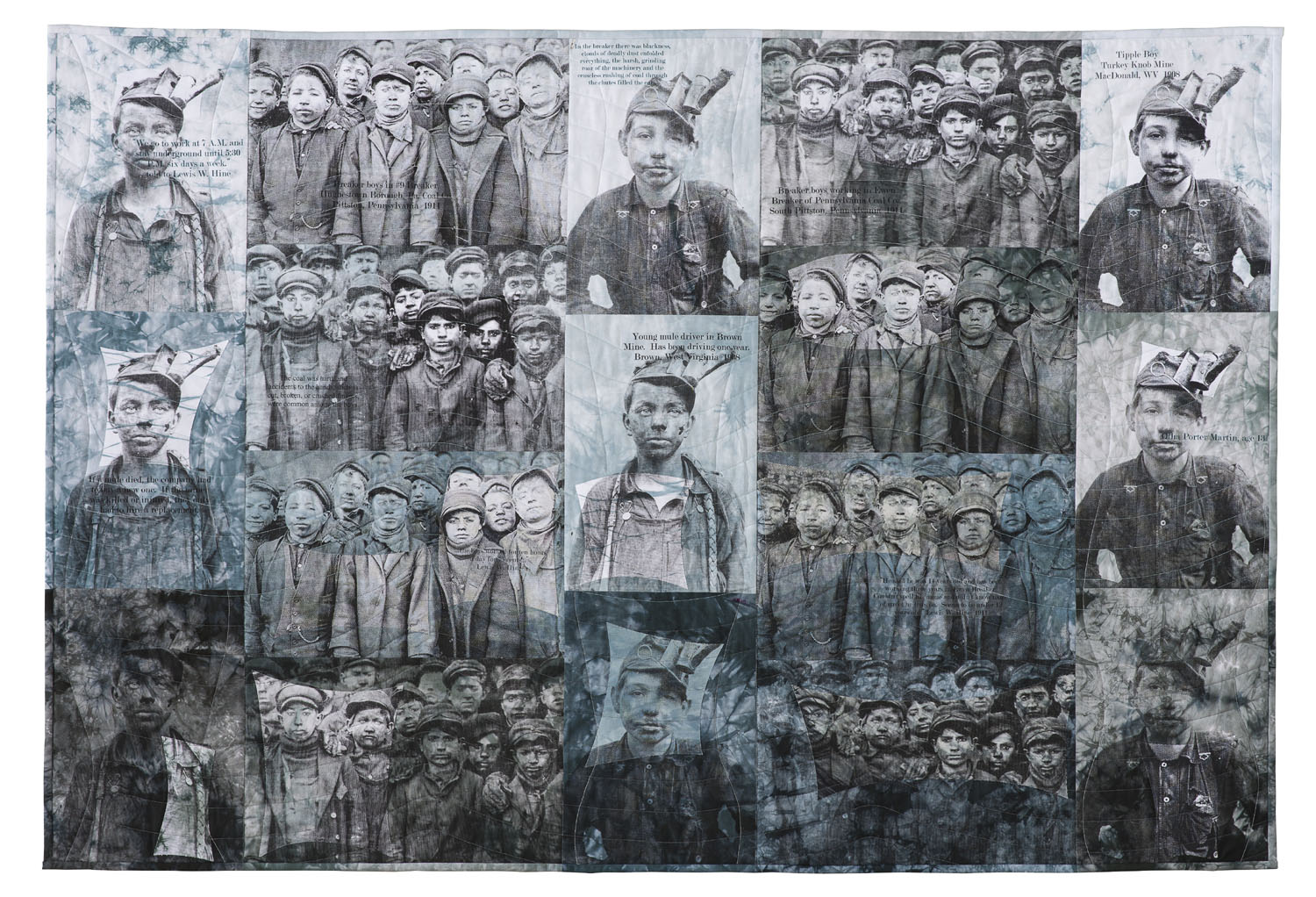 Heartland Award
Descent Into Darkness: The Boys of the Mines ©PKZ
43 by 63
Cotton fabric, fiber reactive dyes, textile ink, fusible web, rayand and cotton threads, inkjet transfer material, cotton batting; hand silk screened, hand dyed, fused, appliquéd, image transfer; machine pieced, machine quilted
Artist's Statement: My work is primarily image driven with the intent to tell a story, trigger a memory, or elicit an emotion. The exquisite photographs of Lewis W. Hine (courtesy Library of Congress), taken in the early 1900s, have inspired me to create a series of pieces, including this quilt. I hope this work deeply touches the viewer, reminds them of someone or something they may have forgotten, or compels them to linger, just a moment longer.

Hilary Morrow Fletcher "Persistence Pays" Award
Reverberations: Yellowstone Waters ©CZ
42 by 62
Cotton, pigment inks, cotton and rayon threads, batting; digitally printed, layered, stitched
Artist's Statement: This quilt was created from a series of photographs taken at Yellowstone's geyser basins. The distorted reflections, ripples, patterns of light and floating elements create a mesmerizing world.The repetition of stitched lines, the patterning of grids and block arrangements, the resulting bas-relief effects of stitched, layered, quilted silk cloth allow me to tell a multi-layered story of my impressions of the experience of gazing into that world.

Quilt Surface Design Symposium Award of Excellence
The Conversation©MAT
92 by 72
Cotton duck, commercial fabric, personal image; printed, machine pieced, machine quilted.
Artist's Statement: This came from a photo of my dad and his sister having a conversation on the sidewalk in the late thirties. Since they are on two panels they can be switched to positions of agreement and disagreement.

Juror's Award of Merit
Mona in the Era of Social Butterflies ©JL
64 by 64
Cotton sateen, da Vinci text and image designed by artist and printed by Spoonflower, butterfly embellishment, hand-stitched
Artist's Statement: Shifting between binary opposites and the counterbalancing that ensues interests me. Visual elements up close which are flat, transform into images that from afar become spatial. The textual characters on this work also follow this avenue; as single characters in the form of virtual keys, into words, into a series of words so that slowly a mental image is built. This, combining the past with the present, is the basis of this work.

Juror's Award of Merit
Salt & Pepper ©MNR
40 by 56
Cotton, fiber-reactive dye; printed, machine appliquéd, machine quilted
Artist's Statement: In the past few years I have been exploring the marriage of digital arts with textiles. It is important to me to significantly alter the digitally printed fabric with stitching to bring out the depth in the piece. I try to pick an image that would be much more alive as a quilt than if it were printed on paper or canvas. Salt & Pepper came from a photograph I took in a restaurant in Seattle, Washington. The image, which I heavily manipulated in Photoshop, depicts the universal table "set-up" in cafes everywhere. Drawing on the quilt with the machine-quilting line gave me immense pleasure as I brought a dimensionality to the quilt.

Juror's Award of Merit
Moonset©BEB
50 by 35
Silk, cotton, cotton batting, cotton thread; whole cloth, free-motion machine quilted.
Artist's Statement: One beautiful and very early morning, I made my way to the beach in LaJolla and saw the full moon setting over the Pacific.

People's Choice Award
Moonset©EEB
50 by 35