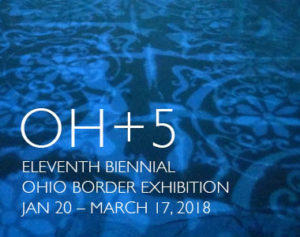 SUBMISSIONS BEGIN SEPTEMBER 1ST
DEADLINE: NOVEMBER 20TH AT MIDNIGHT
Please make sure you have read and understand the submission requirements before entry. Scroll to the bottom of the page to submit & pay.
The tenth in a series of competitions, OH+5 '18 is a regional, all media, juried exhibition of contemporary artwork. This exhibition serves to promote artists residing in Ohio and the five bordering states: Indiana, Kentucky, Michigan, Pennsylvania and West Virginia. OH+5 will feature new work that provides the viewer with an appreciation of the variety of media, techniques and innovative trends in contemporary art. The exhibition will be on display from January 19th through March 16th, 2018.
JURORS: These talented individuals will select artworks based on originality and innovation, design, technique and craftsmanship. Acceptance will be granted based on digitally submitted images. Selected works will be on display at the Dairy Barn Arts Center, Sauber Gallery, from January 19th through March 16 2018. The jury panel is comprised of three individuals:
Tim Bearse is a recent fellow at Marpha Foundation in the Lower Mustang region of Nepal, completing a community design project in July of 2015.  He's been included in exhibitions at NoMinimo Gallery in Guaquil Ecuador, Artisphere in Arlington Virginia, the Pierogi Boiler Room in Brooklyn and Nobile Amundsen in Norfolk Virginia. He's taught at Virginia Commonwealth University, Old Dominion University and The Ohio State University.  Upcoming exhibition planned at the New Bedford Museum of Art opening in January 2016
Kim Beck is an artist whose work includes drawing, print, installation and sculpture. She grew up in Colorado and now lives in Pittsburgh where she is an Associate Professor in the School of Art at Carnegie Mellon University. Her work has been shown widely, including at the Walker Art Center, Carnegie Museum of Art, Smack Mellon, Socrates Sculpture Park, Warhol Museum, Indianapolis Museum of Art, Omi Sculpture Park, Hallwalls and on the High Line in NYC. She has been a fellow at the MacDowell Colony, Yaddo, Art Omi, Cannonball, Helsinki International Artist Programme, Marie Walsh Sharpe Space Program, International Studio & Curatorial Program, Cité Internationale des Arts, Vermont Studio Center and at the Virginia Center for Creative Arts. Her work is included in the collections of Agnes Gund, the Philbrook Museum of Art, the Minneapolis Museum of Art, the Carnegie Museum of Art, the Denver Art Museum among others. She has received awards from ARS Electronica, the Studio for Creative Inquiry, Pollock-Krasner, Heinz Foundation, Sprout Fund, Pittsburgh Foundation, Thomas J. Watson Foundation and Printed Matter. Her work has been reviewed in Art in America, the New York Times, Philadelphia Inquirer, the Village Voice, Interior Design Magazine, The Believer Magazine, BOMBlog,  theartblog, The Architect's Newspaper, and Time Out New York. Beck has also contributed as a writer to Public Art Dialogue and Temporary Art Review and has organized exhibitions and screenings at BravinLee Programs, Artists Image Resource, Delta Axis and the Brooks Museum of Art. Kim Beck has an MFA from the Rhode Island School of Design and BA from Brandeis University.
Dana Goodman is a professor of ceramics and sculpture. He has taught at IPFW since 1997 and received his A.A. from Indiana Hills College in 1985, his B.F.A. from the University of Iowa in 1988 and M.F.A and M.A. from Ohio University in 1991. He has been in numerous national and regional exhibitions. In 2005 he was part of Mish-Mash, a national exhibition at the Chesapeake Art Center in Baltimore, Maryland. He attended an artist's workshop in Balatonfured, Hungary in the summer of 2005 followed by an exhibition at the Red Salon Gallery in Balatonfured. Goodman has had solo exhibitions at the Urban Institute of Contemporary Art in Grand Rapids, Mich., the Jasper Art Center in Jasper, Indiana, and the Fugitive Art Gallery in Nashville, Tenn. His work has also been featured in exhibitions at the Hunter Museum of Art in Chattanooga, Tennessee, the McDonough Museum of Art in Youngstown, Ohio, and the San Angelo Museum of Art in San Angelo, Texas, as well as in two of Penn State University 's Crafts National competitions. Dana Goodman's work is represented by Oxford Gallery of Rochester, New York.
ELIGIBILITY: Any artist that lives in Indiana, Kentucky, Michigan, Ohio, Pennsylvania or West Virginia over 18 years old. Works eligible for consideration must be the result of independent effort. Works must be no older than 2 years (January 2015).
MATERIALS: Works created in any media, including installations, are accepted. Innovative, contemporary work is encouraged.
ONLINE SUBMISSION OF WORK: each artist may submit up to three pieces for the exhibition. Online submission of works will be accepted at dairybarnartsubmissions@gmail.com beginning September 1st, 2017. In order to submit work, you must have a working email address and credit/debit card to pay the entry fee. Below is the information needed for online submission. Further instruction for online submission will be available on the Dairy Barn website.
ENTRY FEE: The fee is for submittal of up to 3 pieces is $30.00 or $25.00 entry fee for current students and Dairy Barn Arts Center members.  Click Here to Pay your submission fee.
ENTRY IMAGES: entries will be accepted in digital format only. Image quality is extremely important in the determining acceptance into a juried exhibition. It is important that the work should appear as you would wish it to be reproduced, as entry images could be used for promotional material. Each work entered may have up to three photographs, but only one is required. You should have at least one full image of the work. For three-dimensional works, you may have one full shot, and two additional detail shots. You MUST submit a full image showing the entire work. Please send your images to dairybarnartsubmissions@gmail.com. You will receive a confirmation after sending your images, payment and submission form.  
IMAGE SPECIFICATIONS: images MUST be JPG files. Be sure that each file is a .JPG and carries the extension ".JPG". Acceptable resolution is 72 dpi. Images should be no larger than 1800 pixels on the longest side. Maximum file size is 5MB.
FILE NAMING: for images of the full work, the file name must be TitleOfWork_Full. If you are providing a detail photo, please use the file name TitleOfWork_Detail. If you are providing two detail photos, the files should be named TitleOfWork_Detail1 and TitleOfWork_Detail2. If your images are not appropriately named, you may be disqualified.
AWARDS: The Dairy Barn Arts Center is awarding $1,100 in prize money in celebration of the 11th biennial of OH+5. The following monetary awards will be chosen by the jurors:
Best of Show $500
Best Innovative Use of Material $200
Juror's Award of Merit (3) $100 each
People's Choice $100 (chosen by visitors to OH+5 over the course of the exhibition)
NOTIFICATION OF ACCEPTANCE: all artists that submit entries will be notified by email the week of December 11th following the jurying process. Shipping works to and from the Dairy Barn Arts Center shall be provided by the artist in the form of a prepaid shipping label or an arrangement with the exhibitions manager.
SALES: The Dairy Barn Arts Center will retain a 35% commission on work sold during the exhibition at the DBAC, while on tour, or on any sale that results from the mediation by the DBAC staff. A work identified on this form as For Sale (e.g. with an established retail price in U.S. dollars) must maintain that status for as long as it is a part of the active OH+5 2018 exhibition. Artists whose work is not for sale must indicate NFS in paperwork, and must list a valid insurance value in U.S. dollars.
CALENDAR:
September 1st – November 20th 2017: accepting online submissions
November 20th 2017 at midnight: deadline for online submissions
December 11-15 2017: artists notified in or out via email
December 18th 2017: artist paperwork due
January 2nd – 10th 2018: artwork drop-off / delivery


https://artdeadline.com