---

Weddings & Receptions
Image provided curtesy of Andrew Thompson Photography
---
Weddings & Receptions
Nestled in the rolling hills of Athens, Ohio, The Dairy Barn Arts Center offers a picturesque and historically rich landscape, just minutes from uptown. With the timeless charm of our historic barn as its backdrop, our versatile venue features expansive front and back lawns, ideal for outdoor events and ceremonies, including the option of hosting your ceremony on our historic Athens brick driveway. With two indoor reception options, we are able to accommodate events both large and small.
At The Dairy Barn Arts Center, we understand the importance of a stress-free planning process. Let us ease your mind with the options for day-before set-up, day-after tear-down, and a full-service bar. Additionally, our venue also features a catering kitchen, allowing for seamless coordination with your chosen culinary team.
With a rich history adding a touch of romance and thoughtful amenities ensuring convenience, our venue becomes a canvas for your most cherished moments, promising an unforgettable wedding experience that will hold a special place in your memories.
---
Indoor Reception Options
The Loft
Encompassing 2,100 square feet, the Loft of the Barn comfortably welcomes up to 150 guests. This versatile space can be used to hosts intimate ceremonies, elegant receptions, and lively celebrations. Infused with the natural charm of rustic timbers and the soft glow of twinkle lights, this space creates an inviting ambiance for unforgettable gatherings, weaving together elegance, practicality, and alluring charm.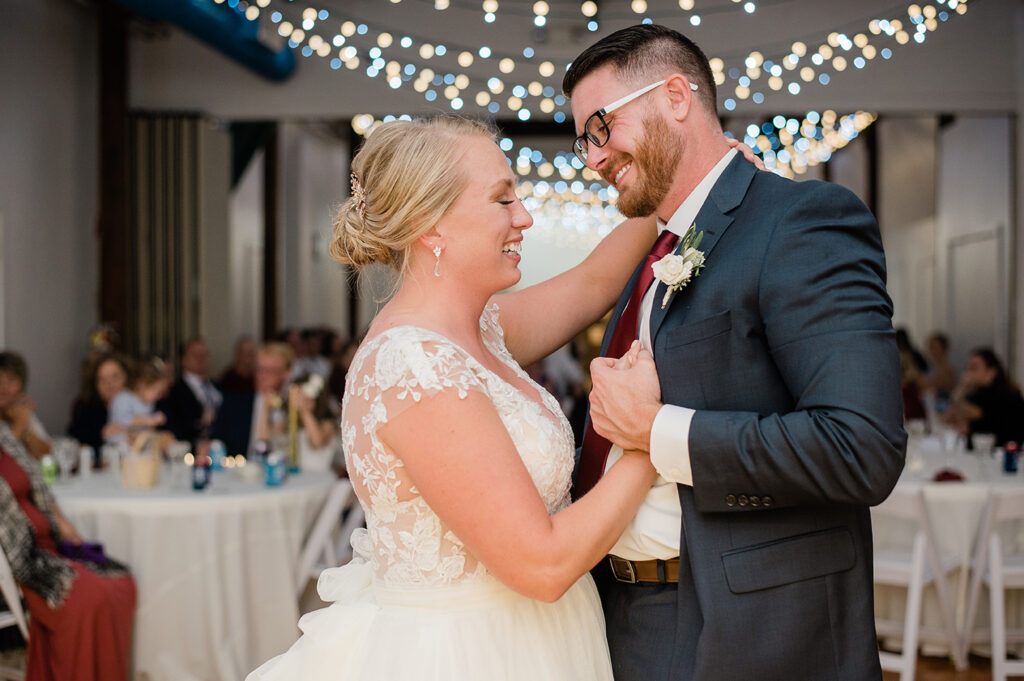 Sauber Gallery
Celebrate your special day in The Dairy Barn's esteemed Sauber Gallery, a remarkable wedding venue boasting over 5,000 square feet of enchanting space. With its capacity to accommodate up to 250 guests for dining and dancing, this captivating setting offers a perfect blend of charm and sophistication. Given its limited availability, we advise early inquiries to secure this coveted space, ensuring a truly memorable wedding experience at The Dairy Barn.
---
Amenities
The Dairy Barn offers a comprehensive range of amenities to enhance your event experience:
Seating, Tables, Etc.:
150 white, plastic resin padded chairs
30 60″ round plastic tables (seating 6-8 people each)
10 6′ rectangular tables (seating 4-6 people each)
15 wooden cocktail pedestals
1 8' buffet table
1 podium
Small "trough" cooler for beverages
Equipment and Accessories:
Sound system with microphones
Projector and projector screen (HDMI Compatible)
Setup and Services:
Day-before setup and day-after tear-down
Catering kitchen with refrigerator, freezer, industrial food warmer, sinks, and counter space
On-site full-service bar available at an extra cost
Spaces and Facilities:
Access to grounds, patio, and lobby
Indoor/outdoor ceremony space
Ample parking
One-mile trail with amphitheater
Wireless internet
---
Patio & Lobby
When you choose The Dairy Barn as your wedding venue, you and your guests gain exclusive access to our patio and lobby space. Combined with our bar service, these areas create the perfect setting for a cocktail hour.
Elevate your cocktail hour with the option to add gallery admission for your guests, allowing them to explore captivating exhibits adding an enriching and memorable touch to the event.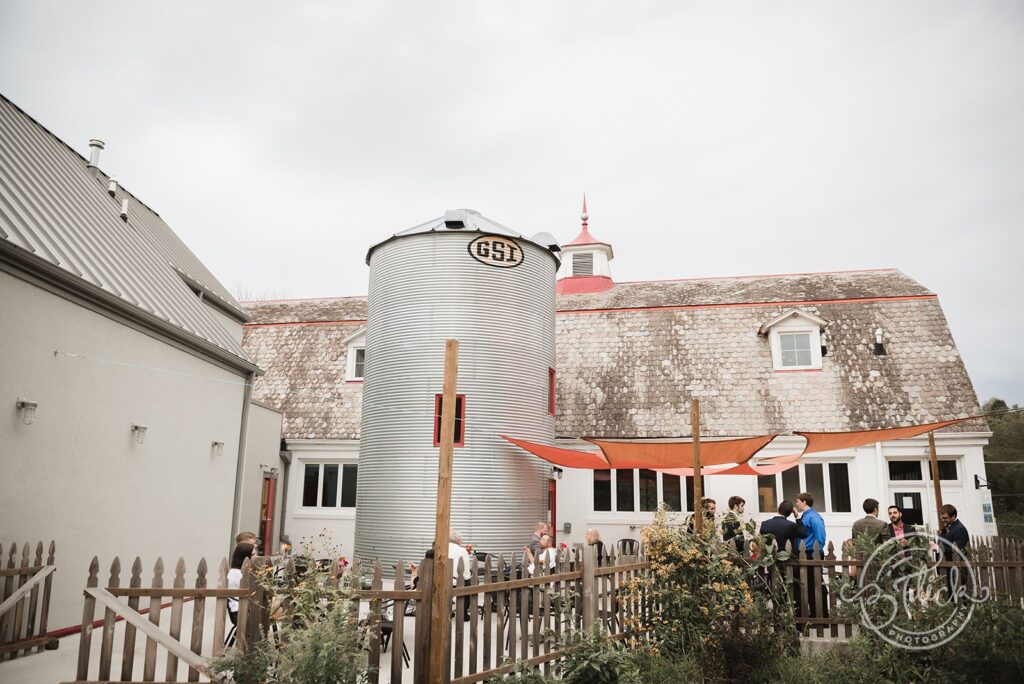 Above images provided curtesy of B Flick Photography.
---
Grounds
Immerse yourself in The Dairy Barn's vast 32-acre grounds as you celebrate your wedding day. The venue's extensive front and back lawns, along with the historic brick driveway and charming herb garden, combine to create an inviting and unique setting. Positioned a short distance from the main entrance, the Ora Anderson Trail offers a scenic one-mile loop and features a small amphitheater. Amid the captivating expanse of our picturesque landscapes, The Dairy Barn provides an ideal backdrop for an unforgettable wedding.
Above images provided curtesy of B Flick Photography.
---
The Neon Cow Bar
Indulge in a world of delightful libations by utilizing The Neon Cow Bar's services for your event. Let our skilled bar staff assist in choosing a bar setup and menu that will work with your unique taste preferences.
**Please keep in mind that because we hold a state liquor license, no outside alcohol is permitted on The Dairy Barn premisses.
---
Contact Us
To make an inquiry regarding availability or to schedule a tour, please complete the form below or contact our Guest Services Manager, Lacy, at events@dairybarn.org.
---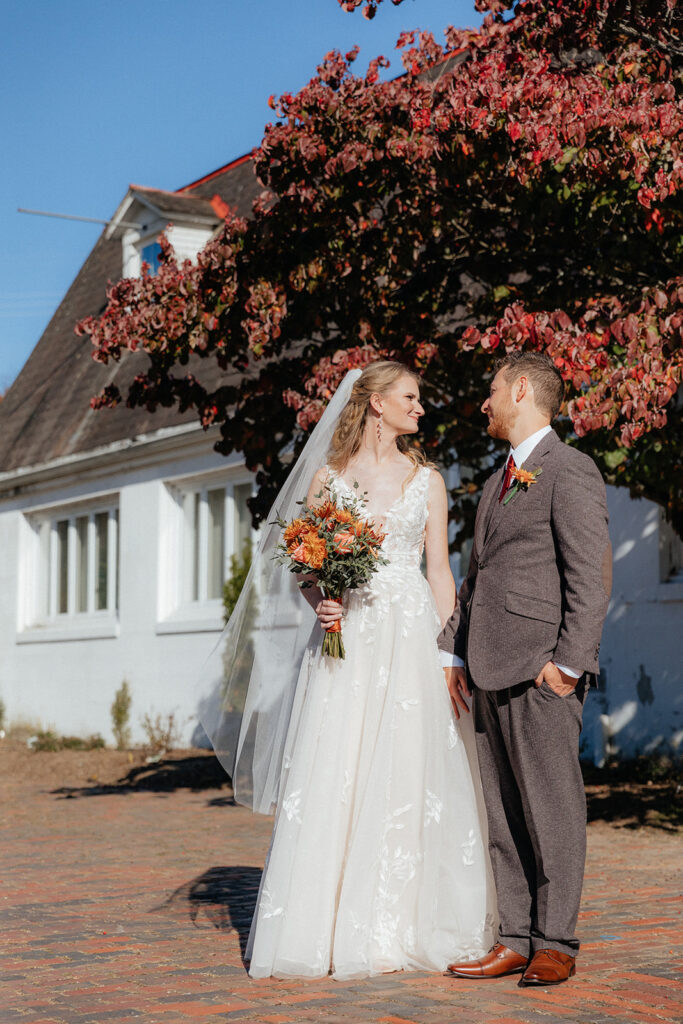 Images provided by Andrew Thompson Photography