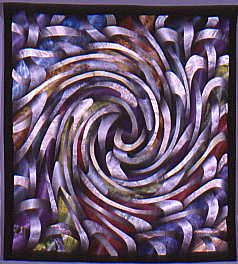 Each Quilt National collection goes on tour for approximately two years following the close of the exhibition at the Dairy Barn in Athens. The Dairy Barn is the only venue where you can see the entire 80+ piece collection.
Quilt National '19 will be divided into three separate groups, each containing about 20 to 25 quilts.
If you would like Quilt National to be shown in your area, you and your like-minded friends should contact your local museum or gallery. Let the director or curator know that there is a strong interest in seeing this kind of artwork. Suggest that he or she contact the Dairy Barn Arts Center for information about becoming a Quilt National host venue. Rates have been reduced, and repeat venues have an additional discount.
Quilt National has been touring since 1983.
For information about hosting a Quilt National touring collection, contact the Dairy Barn by sending e-mail to touring@dairybarn.org.
Information on the Quilt National tour, including costs.
If you would like more information about getting Quilt National to your local museum, Click here for Quilt National '19 Tour information.